Cathodic Electro Deposition Systems ( CED )
We are Manufacturer, Supplier, Exporter of Cathodic Electro Deposition Systems, Cathode Electro Deposition Systems, CED. Our setup is situated in Pune, Maharashtra, India & majorly we serve our products to customers from India, Sri Lanka, Bangladesh & Gulf countries like Bahrain, Oman, Qatar, Saudi Arabia, Egypt, Jordan, Lebanon, Syria, Yemen, Kuwait, Dubai, UAE ( United Arab Emirates ) etc.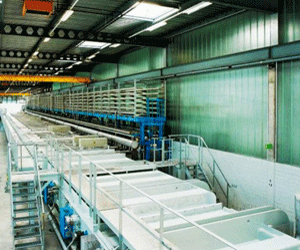 Electrocoat, also known as Electrophoretic or Electrodeposition coating, is a fully automatic process for the coating of metal surfaces. It is both economical and environmentally friendly.
All industrial painting methods have to comply with the following basic requirements :
High quality, good aesthetic appearance and to closely reproducible standards. Maximum economy, minimum is the damage to the environment from its air borne and water borne waste products.
Typically, processes which meet these conditions are automated.
Where possible facilities for recycling surplus paint and other materials are used. Exhaust air and waste water from these processes should be disposed of satisfactory. Moreover, the plant technology should minimise noise problems.
Electrocoat satisfies all of these requirements.
Applications
Uniform coating deposition, especially for objects of complex design, excellent coating of edges, etc.
High throw effects ensure coating in inaccessible areas.
Freedom from flushing effects of solvents in box sections and recesses.
Freedom from runs, drips, curtaining, etc.
Hence minimal if any rub down before topcoat application.
Cost Effective
Fully automated process.
High throughput.
Accommodates variable workpiece shapes and batch sizes.
Greater than 90% paint utilization.
Safety
Low fire and explosion hazard.
Low VOC.
No hazardous waste.